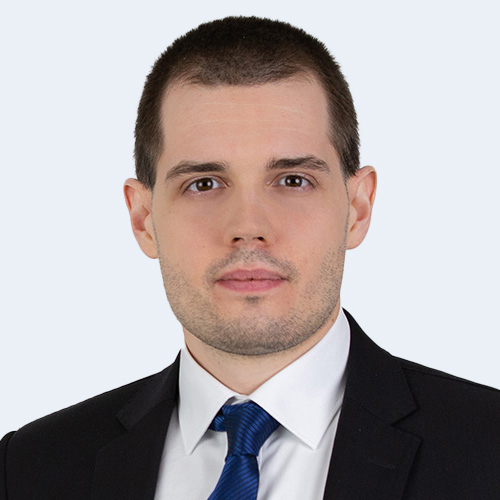 2012 – 2016 Legal studies at the LMU Munich
2017 – 2019 Legal clerkship at the Higher Regional Court Munich and the regional government of Upper Bavaria
2019 Admission
Since 2022: Second degree in human medicine at LMU Munich (part-time)
Practice Areas:
Criminal law and criminal proceedings law, esp. medical criminal law and business criminal law
Constitutional law
General civil and civil procedure law
Languages:
From 2012 to 2016 Dominik Klauck studied law with academic focus on criminal defense, criminal justice, and prevention at the Ludwigs-Maximilians-University in Munich. While still in his legal clerkship at the Higher Regional Court Munich, which he completed after graduating, Dominik Klauck was already working with Dr. Gauweiler's team and joined the law firm of Gauweiler & Sauter after he passed the second state examination.
Mr. Klauck's main focus of interest is on criminal law and criminal procedure law, in particular on complex issues of medical and commercial criminal law with its cross-jurisdictional references. In doing so, Mr. Klauck attaches great importance to looking at the law as a "big picture", because the client's interests and concerns also regularly transcend the boundaries of the three classic legal sub-disciplines. Since 2022, Mr. Klauck has also been expanding his professional knowledge through a part-time second degree in human medicine at the LMU Munich.
Another focus of Mr. Klauck's interests lies in the area of state protection. In addition to defending state protection cases before the Federal Public Prosecutor General, Mr. Klauck dealt with the constitutional limits of preventive and repressive state protection in his dissertation thesis submitted to the LMU Munich in 2023. As a result of his academic involvement with constitutional, Union and international law, Mr. Klauck also examines for his clients, when the occasion arises, the possibility of taking extraordinary legal action such as a constitutional complaint to the Federal Constitutional Court or a state constitutional court.
Memberships: